Report from our first EON Network Meeting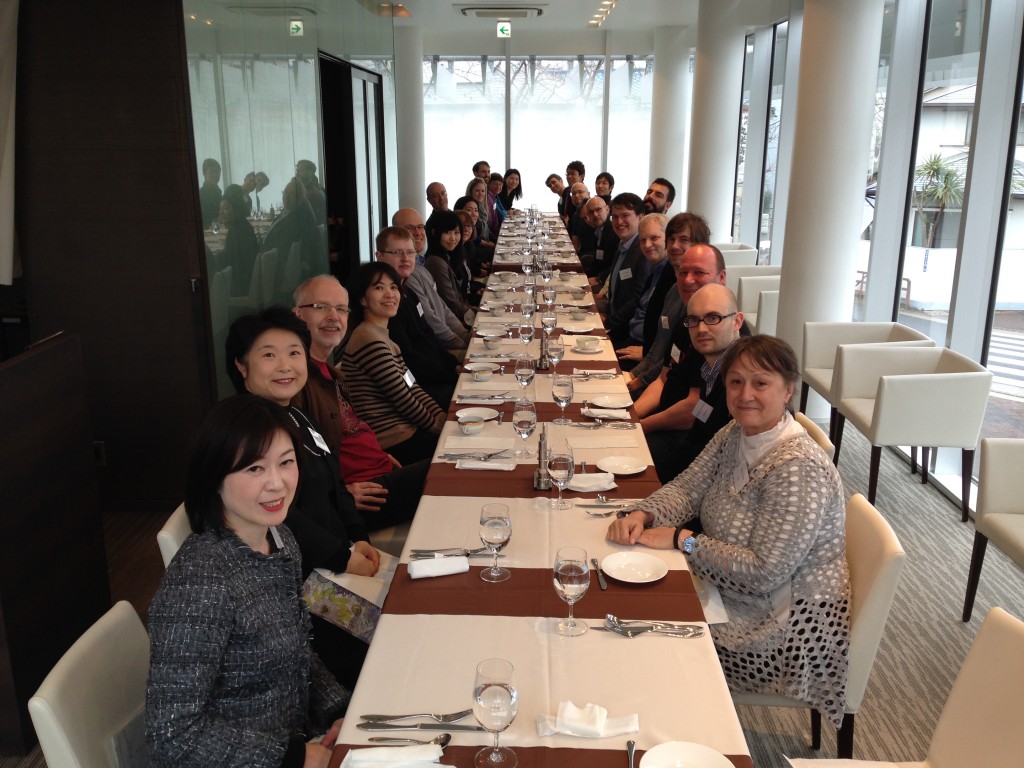 Since EON officially started its existence in July 2015, most of those affiliated with EON in one form or another, have been in virtual contact with each other.  So it was a great pleasure to see 27 of us come together at ELSI on January 12, 2016, for our first annual EON Network Meeting.
We only had a few hours, before the 4th ELSI International Symposium started, later in the afternoon, but in that time we all got a chance to finally meet, and exchange ideas about the kind of exciting science that EON will be focusing on, through all the diverse angles presented by those in the room.
After brief opening remarks by John Hernlund, Vice Director of ELSI, and Piet Hut, Director of EON, Nathaniel Virgo, EON Executive Director, and Eric Smith, EON consultant gave concise overviews of the structure and scientific activities EON, followed by Mayuko Nakagawa, EON lab manager, who gave a detailed introduction to the lab equipment and its use.
Half of the ten new EON postdocs were present, Chris Butch, Jakob Andersen, Kosuke Fujishima, Nathanael Aubert-Kato, and Donato Giovannelli, and each of them shared with us their research plans for the next couple years.
At the close of the meeting, Ayako Fukui, our main contact person with the John Templeton Foundation, gave a brief summary of future funding possibilities, after which we closed the meeting with a short brainstorming session about the future growth of EON.
From the EON advisory board we were joined by Emmanuelle Javaux, Hikaru Yabuta, Laurie Barge and Ive Hofacker, with Nigel Goldenfeld joining by Skype.
Also present were Steve Vance, Mary Voytek, Christoph Flamm, Daniel Merkle, Costantino Vetriani, Lynn Rothschild, Guest Pieter Burger, and our grant manager from the John Templeton Foundation, Ayako Fukui, as well as all the members of the EON team.